Description
Self-priming electric vane pump with integrated by-pass valve. Aluminum body. Two options connection for 25mm pipe. Rotor and vanes made of resin. Brush holder with EMI filter. Main applications: diesel, oil and anti-freeze refuelling. Available also with case and handle for easy transport, On/Off switch, battery clips (VP45) and in the version with integrated On/Off switch (VP45-S).
Technical Data
Voltage: 24V
Consumption (A): 4
Fuse (A): 10
Self-priming (m): 1,5
Pressure (bar): 1,2
Flow rate (l/min): 45
Ports (BSP): 3/4″
Hose (mm): 25
Motor power (W): 150
Weight (kg): 3,3
Reference: 166 020 13
Type: VP45
(**) Internal tube Ø 25 mm / (**) Length up to 2 m
Exploded View Diagram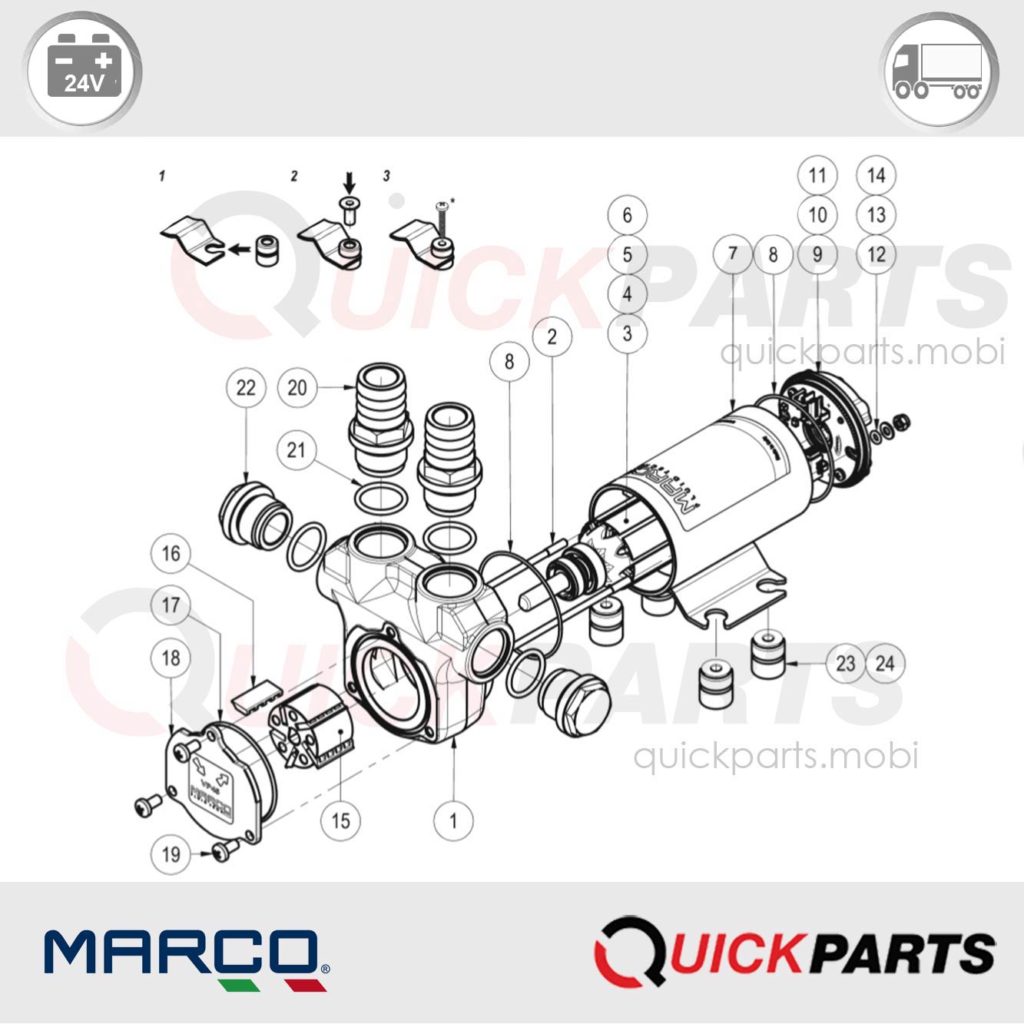 Application
There are numerous fields of applications for the pump, however only exclusively with the allowed liquids mentioned:
transfer of diesel fuel between tanks, refuelling of tractors and earth moving equipment
transfer of water
transfer of antifreeze, etc.
Fluids Allowed
Fresh water (max 35 °C-95 °F)
Diesel fuel (*)
(*) Minimum flashpoint (PM): 38 °C-100 °F
Fluids Not Allowed:
Petrol (Gasoline)
Flammable liquids with PM< 38 °C-100 °F
Liquids with viscosity > 20 cSt
Corrosive chemical products
Solvents
INSTALLATION
It is recommended that the use of the pump be according to normative safety standards and also as per the precautions listed below.