Description
Marco 164 622 15, UP6/E
Self-priming gear pump, integrated check valve and electronic pressure sensor: to be used as automatic pump for water systems. Nickel-plated brass body, PTFE gears, stainless-steel shaft and lip seal. The electronic pressure sensor is preset at 2,5 bar.
Applications
Main use as automatic pump for freshwater and sanitary water systems on boats, vans and RV.
Fluids Allowed / Not Allowed
There are numerous fields of applications for the pump, however only exclusively with the allowed liquids mentioned:
Fluids Allowed
Fresh Water (max 40 °C)
Warranty expiries if max fluid temperature is exceeded

 Fluids Not Allowed
Petrol (Gasoline) => Danger: Fire / Explosion
Flammable Liquids with PM < 38 °C => Danger: Fire / Explosion
Liquids with viscosity > 20 cSt => Danger: Motor overheating
Corrosive chemical products => Danger: Pump corrosion – Injury to personnel
Solvents => Danger: Fire / Explosion – Damage to seals
ISO 8846 Compliant Device
Technical Data:
Reference: Marco 164 622 15
Voltage: 12/24V
Fuse: A 20
Flow rate: l/min 26
Internal tube Ø 16 mm
Pressure: bar 2,5
Self priming: (m) 1,5
Weight: 3,7 kg
Wire size: (mm2) 2,5
Length up to 2 m
Type: UP6/E
IP 67: Code, International Protection Marking.
Dust tigh  t: No ingress of dust; complete protection against contact (dust tight)
Immersion up to 1 m: Ingress of water in harmful quantity shall not be possible when the enclosure is immersed in water under defined conditions of pressure and time (up to 1 m of submersion).
Ingress Protection code documentation
PTFE Gear Pumps 12V/24V Electronic Pressure Pumps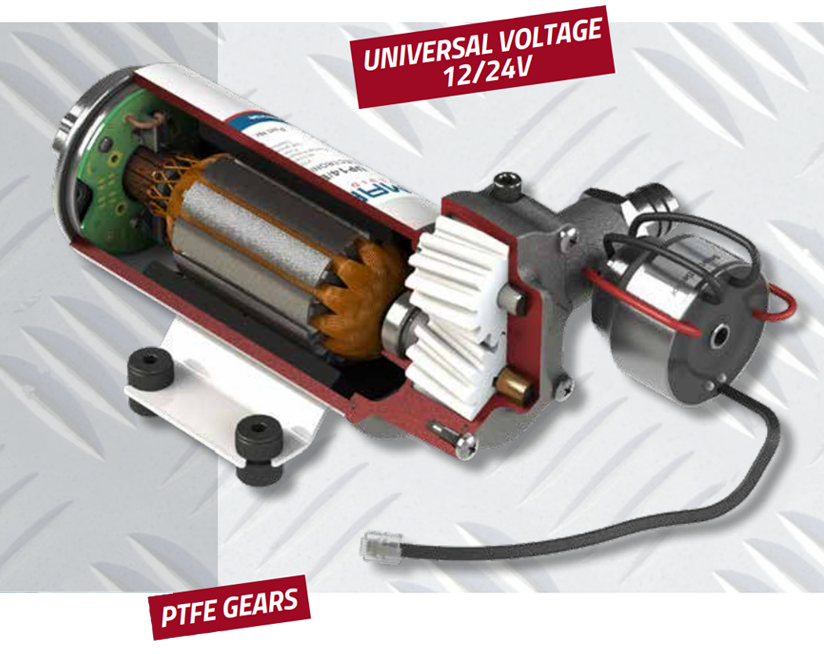 Self-priming electric pumps with helical PTFE gears, universal voltage 12V / 24V, check valve and electronic pressure sensor. The PTFE gears guarantee constant pressure, heavy-duty cycles, lower noise levels and excellent resistance to chemicals. Body and nickel-plated brass connections, stainless steel shaft. FKM seals and NBR O-rings. Also available with electronic control panel for remote control.
Installation
It is recommended that the use of the pump be according to normative safety standards and also as per the precautions listed below.
 Preliminary Checks:
Check that there has been no damage to the pump during transportation or storage.
Both inlet and outlet ports should be carefully cleaned removing possible dust or residual packaging material.
Verify that the available electrical power supply corresponds to the specification requirements
 Positioning:
The pump can be mounted in any position.
Fix the pump utilizing suitable diameter screws corresponding to the holes.
Dimensions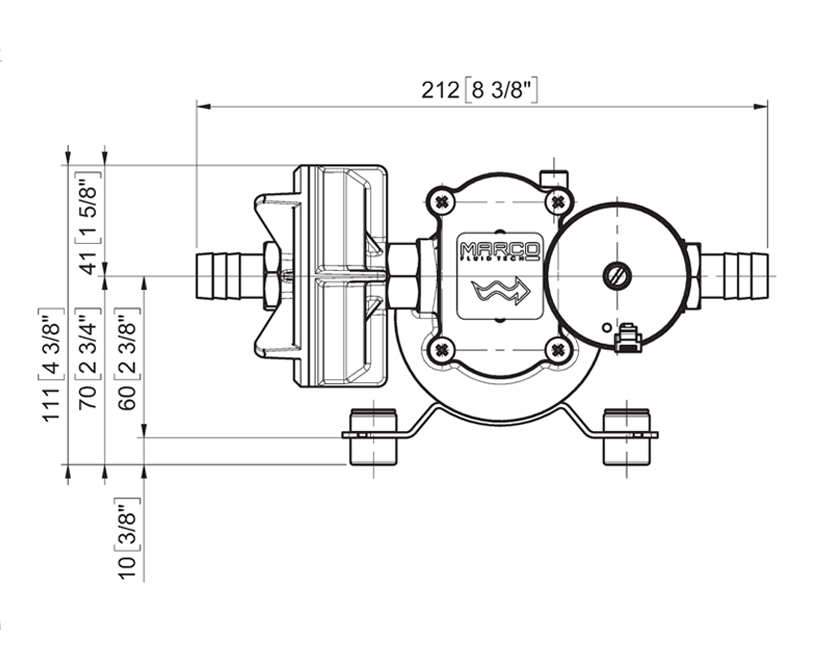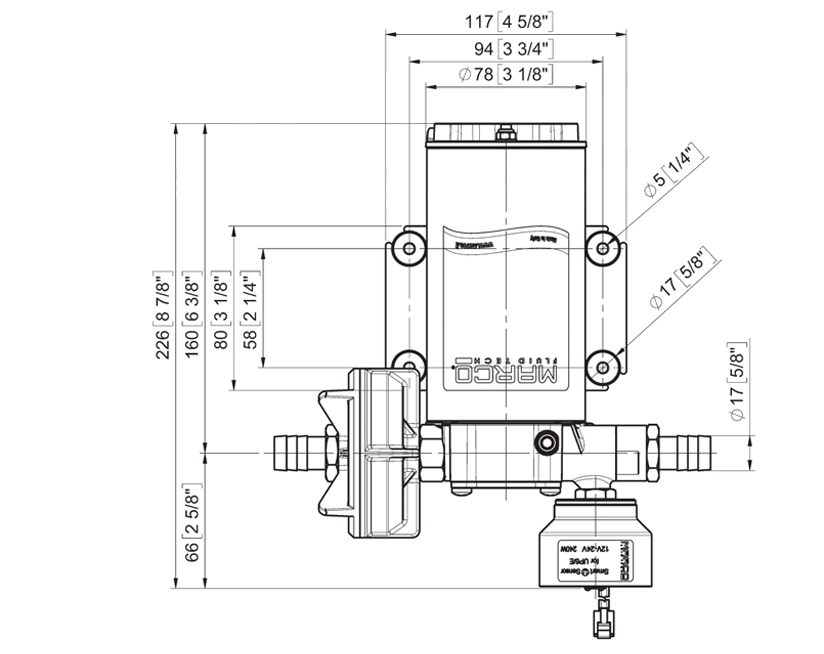 Exploded View Diagram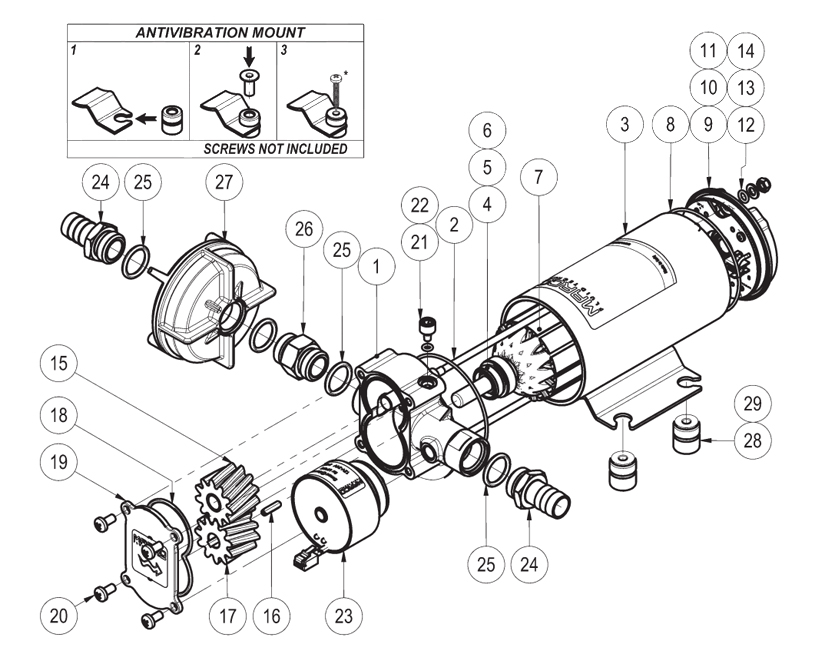 1. Pump body 2. Rod 3. Pump frame 4. Rubber lip seal 5. Washer 6. Ball bearing 7. Armature 8. O-ring 9. Brush holder 10. Ball bearing 11. Compensation spring 12. O-ring 13. Washer  14. Nut 15. Idle gear 16. Key 17. Driving gear 18. O-ring 19. Top plate 20. Screw 21. Air vent cap 22. O-ring 23. Electronic control 24. Tube outlet 25. O-ring 26. Nipple 27. Filter 28. Antivibration mount 29. Antivibration insert
Flow Rate Diagram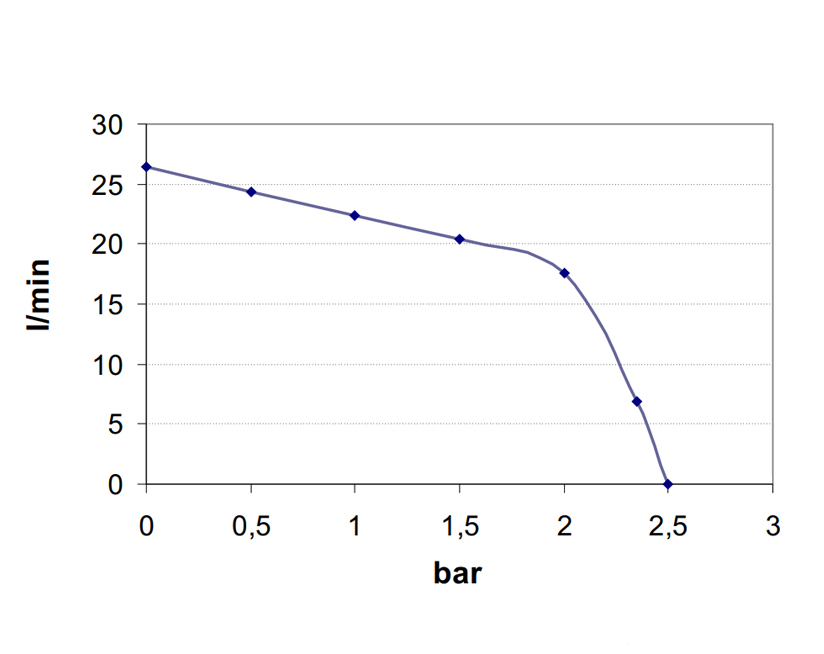 Ampere Draw diagram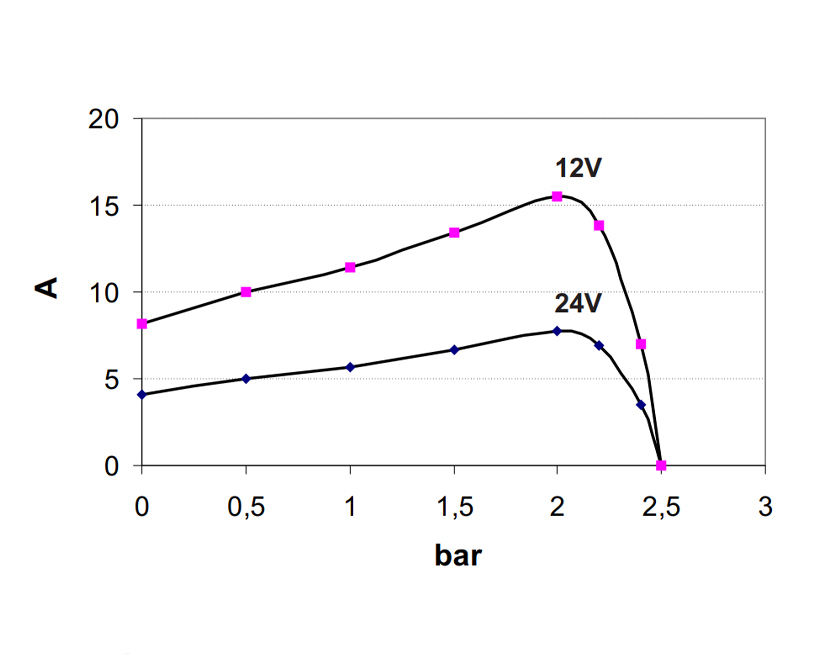 About MARCO
MARCO manufacture electric and air horns for cars, trucks and boats, as well as electric pumps for the transfer of various liquids.
These products are manufactured using the most advanced production equipment, such as spectrum analysers, vibrating stands, and other sophisticated instrumentation, including an anechoic chamber, for the development and testing of products.
Today the use of advanced technology enables MARCO to reach the highest International Quality Standards, allowing the creation of highly competitive products that are exported daily to over 80 countries.
Delivery Services
We have a number of Home Delivery services available to you. Availability of these options will be shown at checkout.
International Delivery
We offer delivery to European and many international destinations. For European countries, prices start from £3.00 – €4.00 and are calculated at the checkout page. Click here for a price guide.
For non-European countries, please select your parts and check out normally selecting your country.
Returns
At QuickParts.mobi we hope that you are happy with your purchase, however we know that sometimes you will need to return or cancel an item. Any products returned must be in a re-saleable condition & include the original packing and documentation.
Quickparts must be informed of any return requests within 30 days of the original order date.
Before returning any goods please read our Terms and Conditions
You'll find returns information on your delivery note. Unless faulty, we'd like you to make your return within 90 days of purchase. Exceptions apply to certain products – find out more about our refund policy.