Description
Marco 112 360 12, XB2
Very powerful electro pneumatic horn with deep and loud sound. Xtreme Blast is the two tones horn most powerful of its category. The use of two electric compressors, in fact, always ensures a proper level of sound pressure for each of the two acoustic trumpets.
Highly versatile and compact, it can be easily installed on any type of vehicle. The horn is composed of two heavy duty compressors and an high resistance nylon base with two chromed metal trumpets. It is supplied with relay, air hoses and fixing hardware.
Technical data:
Voltage: 12V
Lenght: 390mm
AMP.: 36
Db (A) (2m): 116
Mouth Ø mm: 80
Weight (kg): 2,3
Reference: Marco 112 360 12
Type: XB2
Instructions
The compressor must be mounted in a vertical position, far away from hot engine parts. Install horns slightly inclined downwards (Tab.1).
The opening must not be blocked by other vehicle components. Wiring must be as indicated on our installation instructions; connections should be short to obtain minimum dropping of voltage. Air hose should be as short as possible to ensure efficient working of the horns.
PAY ATTENTION TO THE POLARITY!
Connect the positive terminal of the compressor to the positive of the electric system, and the negative terminal to the negative.
"HOT" LEAD TO HORN Diagram
"GROUND" LEAD TO HORN Diagram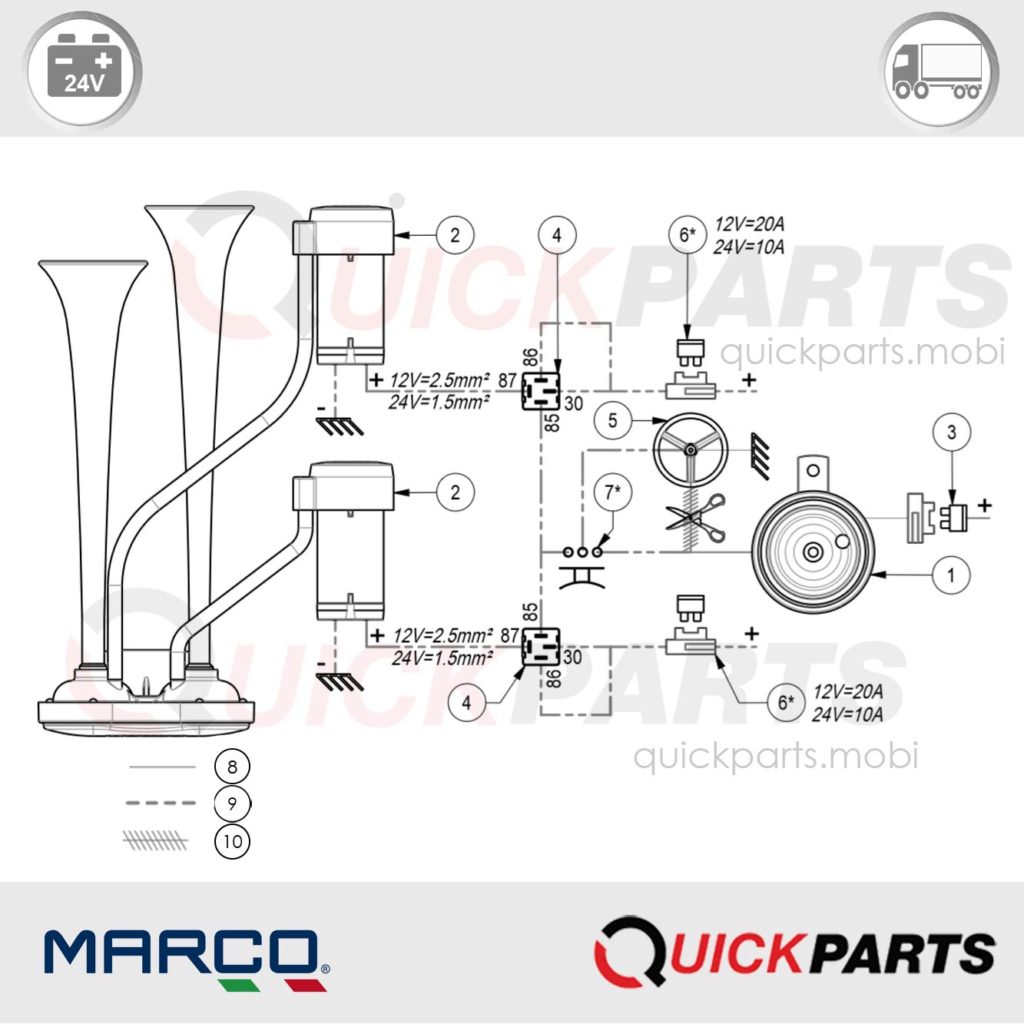 About MARCO
MARCO manufacture electric and air horns for cars, trucks and boats, as well as electric pumps for the transfer of various liquids.
These products are manufactured using the most advanced production equipment, such as spectrum analysers, vibrating stands, and other sophisticated instrumentation, including an anechoic chamber, for the development and testing of products.
Today the use of advanced technology enables MARCO to reach the highest International Quality Standards, allowing the creation of highly competitive products that are exported daily to over 80 countries.
Delivery Services
We have a number of Home Delivery services available to you. Availability of these options will be shown at checkout.
International Delivery
We offer delivery to European and many international destinations. For European countries, prices start from €5.00 and are calculated at the checkout page. Click here for a price guide.
For non-European countries, please select your parts and check out normally selecting your country.
Returns
At QuickParts.mobi we hope that you are happy with your purchase, however we know that sometimes you will need to return or cancel an item. Any products returned must be in a re-saleable condition & include the original packing and documentation.
Quickparts must be informed of any return requests within 30 days of the original order date.
Before returning any goods please read our Terms and Conditions
You'll find returns information on your delivery note. Unless faulty, we'd like you to make your return within 90 days of purchase. Exceptions apply to certain products – find out more about our refund policy.