Description
Marco 132 040 12, EM2
Single electromagnetic horn with stainless steel trumpet. Powerful acoustic unit carefully protected and manufactured of non-corrosive materials, complete with fixing hardware.
Listen Electromagnetic horns with stainless steel trumpets
Features
Stainless steel trumpet
High tone
Technical data:
Voltage: 12V
AMP.: 5
Hz: 370
Lenght: 400 mm
Db (A) (2m): 118
Mouth Ø: 97
Weight: 1 kg
Reference: Marco 132 040 12
Type: EM2
Instructions
Install the horn on the frame or on the body-work in a piace enough strong to avoid harmful vibrations. Install horns slightly inclined downwards; the standard supplied spoiler prevents water and foreign substances from entering. lt can be removed only if the horn is installed in a sheltered piace and its removai increases the intensity of the sound considembly. No maintenance is needed; the use of homs causes very slight wear to contacts. lf resetting is necessaiy it is made by means of the sealed adjustment screw which is placed under the cover which can be taken off after removing the screw, under the trade-mark iabal, THE SECTIONS OF THE CABLES MUST SE THE ONE INDICATED IN THE CIRCUIT SCHEME!
Diagram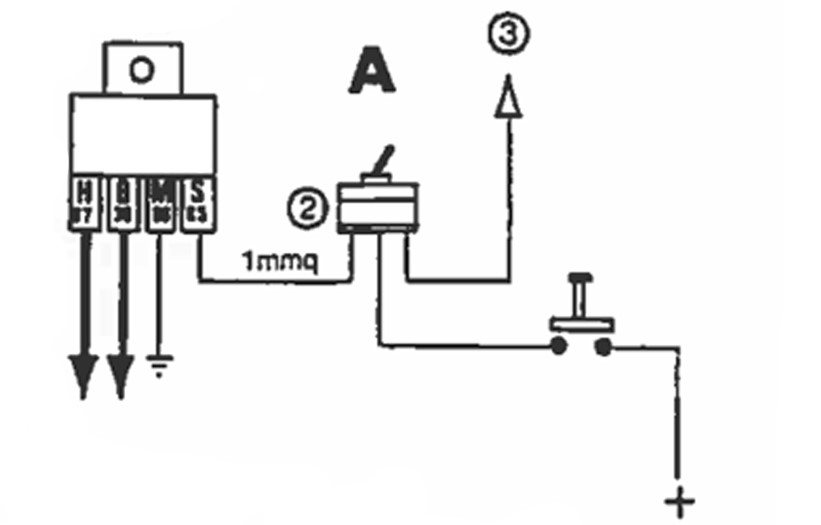 With pushbutton switch on positive cable 1. Fuse 12V 20A – 24V 10A 2. cut existing wiring and insert a 3 terminal connection switch 3. to original equipment horn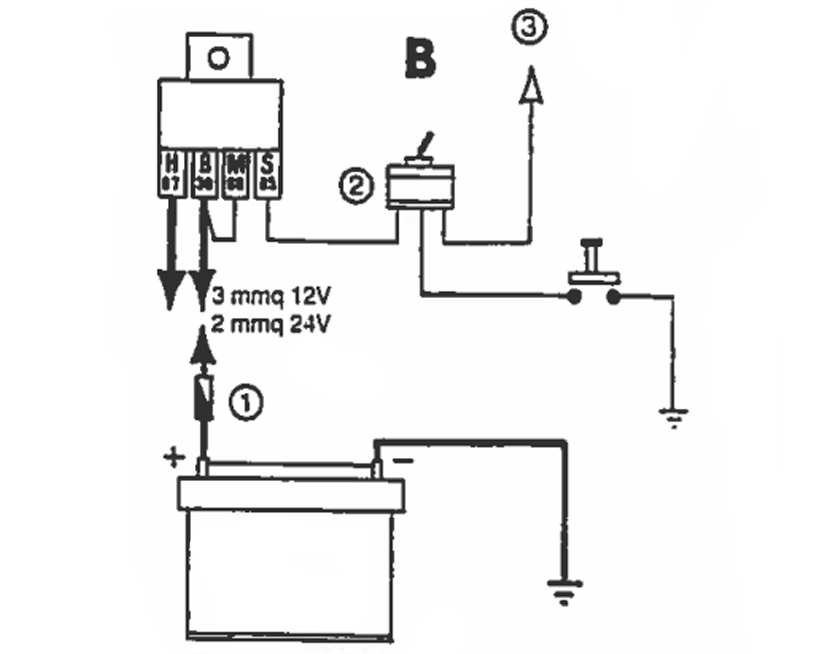 With pushbbutton swttch on grounded cable 1. Fuse 12V 20A – 24V 10A 2. cut existing wiring and insert a 3 terminal connection switch 3. to original equipment horn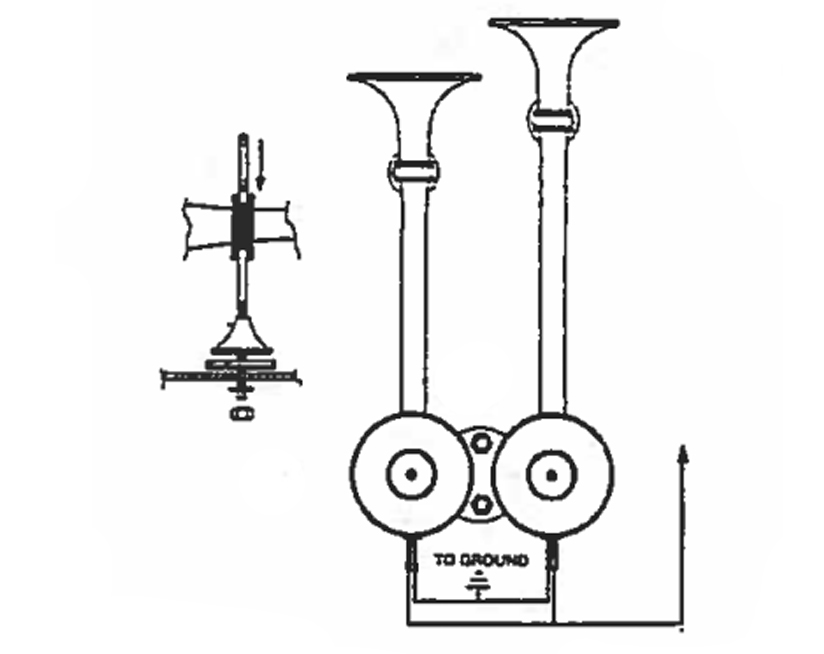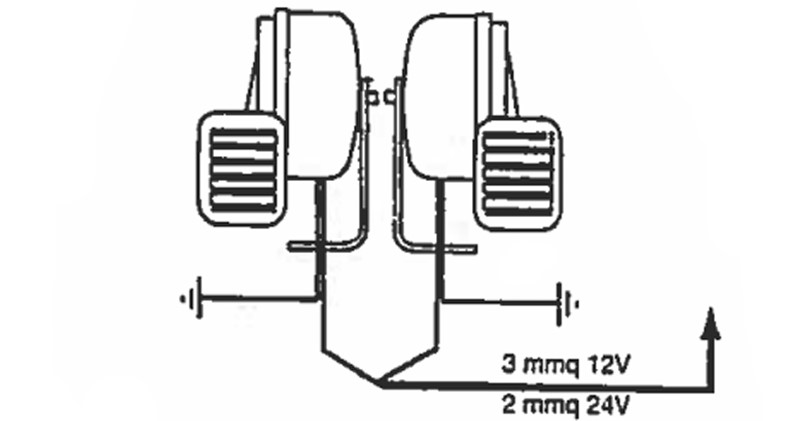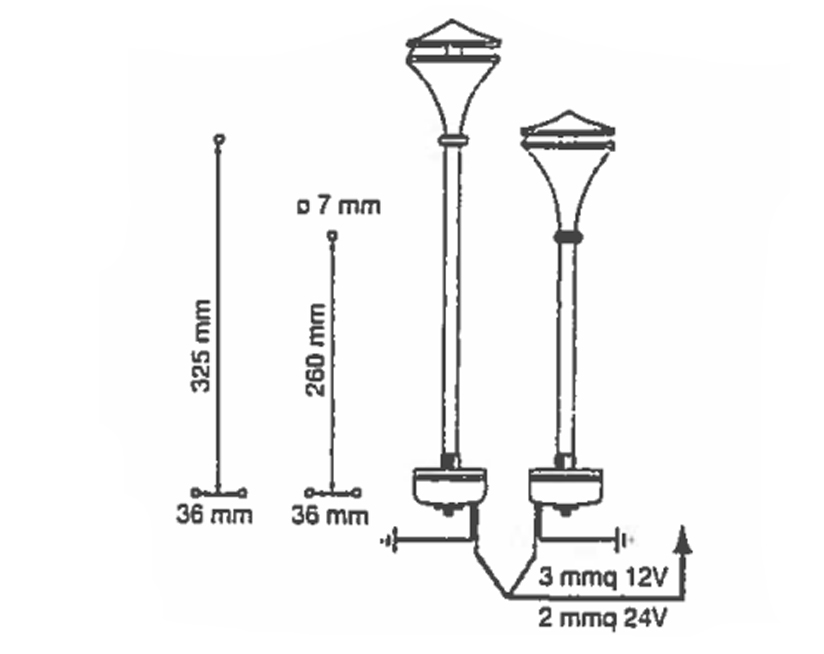 Dimensions

About MARCO
MARCO manufacture electric and air horns for cars, trucks and boats, as well as electric pumps for the transfer of various liquids.
These products are manufactured using the most advanced production equipment, such as spectrum analysers, vibrating stands, and other sophisticated instrumentation, including an anechoic chamber, for the development and testing of products.
Today the use of advanced technology enables MARCO to reach the highest International Quality Standards, allowing the creation of highly competitive products that are exported daily to over 80 countries.
Delivery Services
We have a number of Home Delivery services available to you. Availability of these options will be shown at checkout.
International Delivery
We offer delivery to European and many international destinations. For European countries, prices start from €5.00 and are calculated at the checkout page. Click here for a price guide.
For non-European countries, please select your parts and check out normally selecting your country.
Returns
At QuickParts.mobi we hope that you are happy with your purchase, however we know that sometimes you will need to return or cancel an item. Any products returned must be in a re-saleable condition & include the original packing and documentation.
Quickparts must be informed of any return requests within 30 days of the original order date.
Before returning any goods please read our Terms and Conditions
You'll find returns information on your delivery note. Unless faulty, we'd like you to make your return within 90 days of purchase. Exceptions apply to certain products – find out more about our refund policy.