Description
Jokon 13.4015.000, E2-06020 EMV / EMC, K 580b/9-32V
Features
The Jokon k 580b is a compact LED number plate light that can be installed both horizontally and vertically.
The light is characterized by very even, bright and uniform illumination of the number plate. This is achieved through powerful LED's in SMD technology and a highly efficient lens optics.
The extraordinarily wide variety of mounting positions allows you a high degree of flexibility in vehicle development.
High quality LED's from branded manufacturers (NIChIA).
Additional Information:
Voltage: 9-32V
Power: 1 W
Connection: cable 200 mm
Weight: 0,03 kg
Reference on the lens: E2-06020 EMV / EMC
Reference: Jokon 13.4015.000
Type: K 580b/9-32V
IP 6k9k. Code, International Protection Marking.
Light Effective against Dust tight
No ingress of dust; complete protection against contact (dust tight). (*1)
Protection against  Powerful high temperature water jets
Protected against close-range high pressure, high temperature spray downs.
Smaller specimens rotate slowly on a turntable, from 4 specific angles.
Larger specimens are mounted upright, no turntable required, and are tested freehand for at least 3 minutes at distance of 0.15–0.2 m.(*2)
Ingress Protection code documentation
Illumination for 520 x 120 mm registration plate – horizontally or vertically with two lights in 3 alternative versions.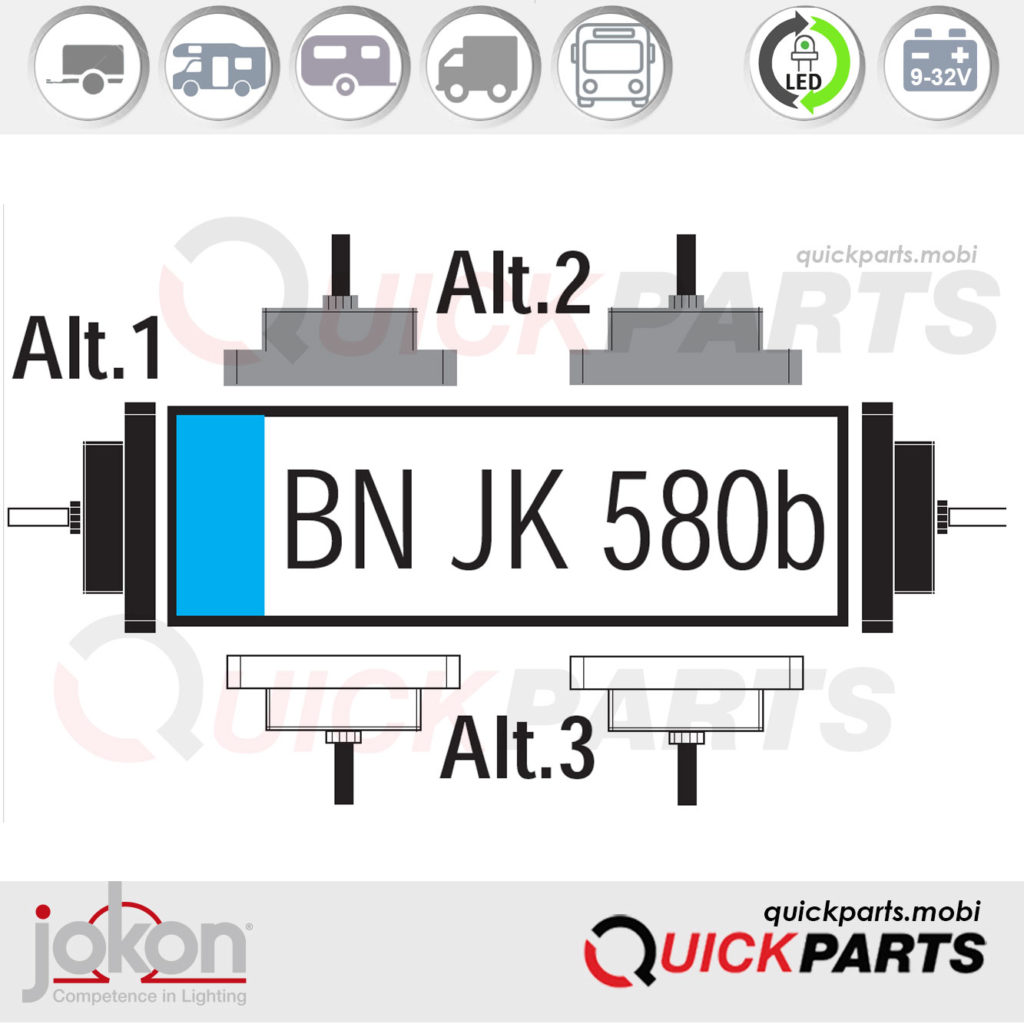 Illumination for 340 x 240 mm registration plate – horizontally or vertically with only one light in 4 alternative versions.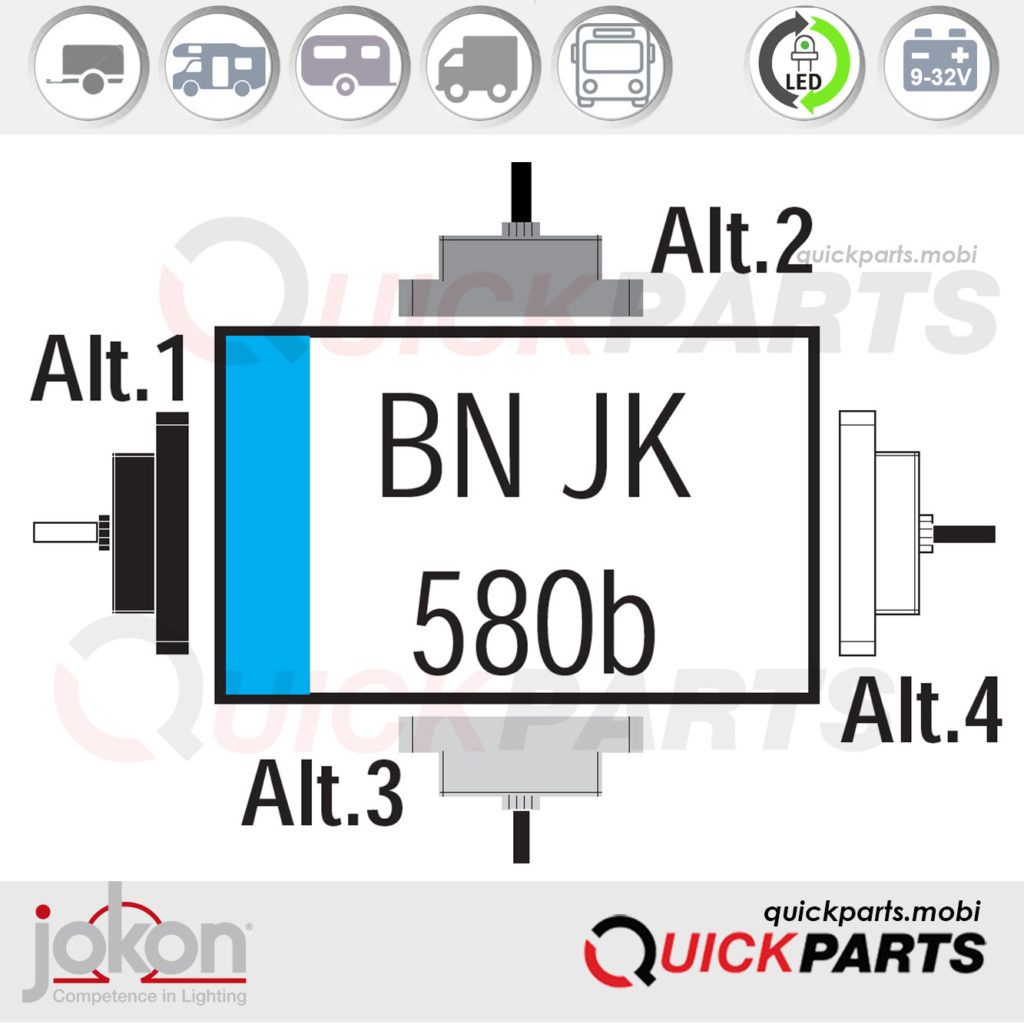 Single conductor seal for maximum IP protection and functional safety.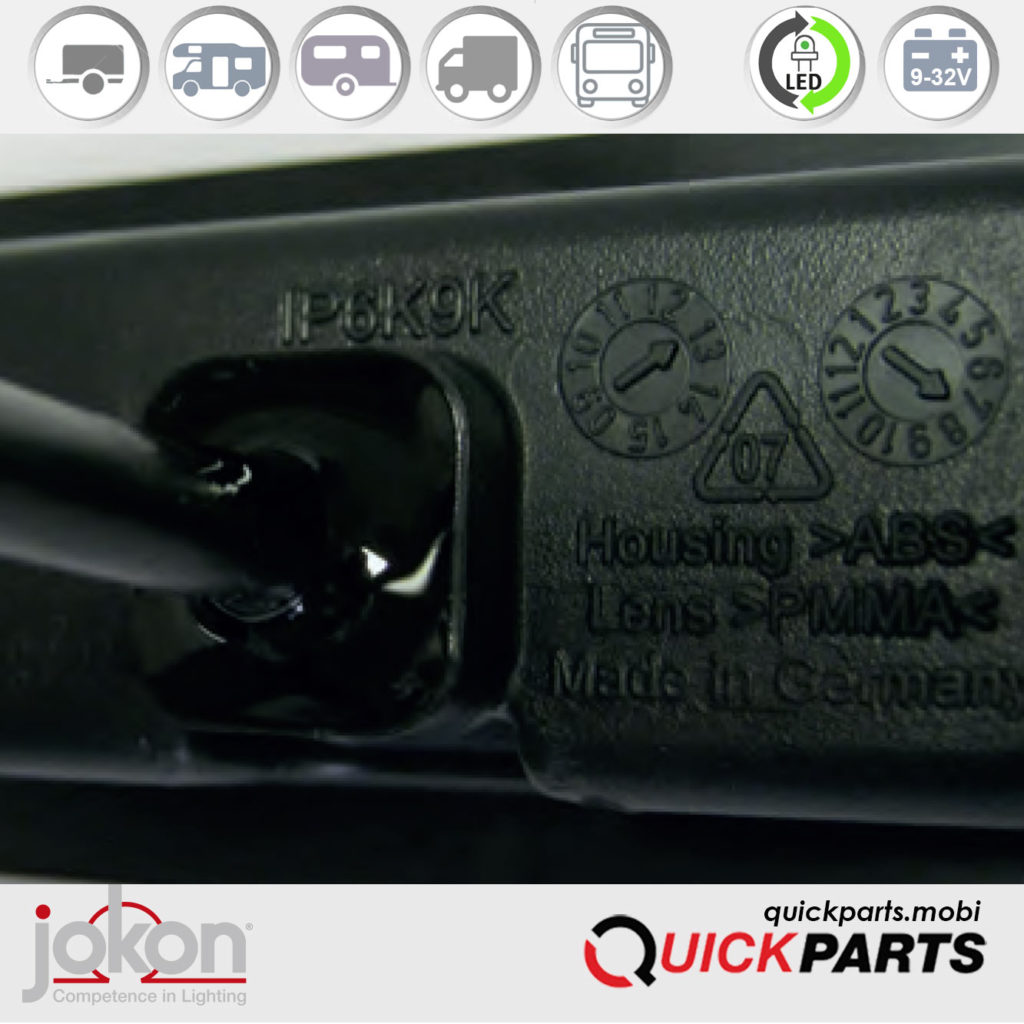 (*1) A vacuum must be applied. Test duration of up to 8 hours based on air flow
(*2) There are specific requirements for the nozzle used for the testing. This test is identified as IPx9 in IEC 60529. Test duration: 30 seconds in each of 4 angles (2 minutes total) Water volume: 14–16 litres per minute Pressure: 8–10 MPa (80–100 bar) at distance of 0.10–0.15 m Water temperature: 80 °C
About Jokon
In the JOKON range, you will find high – quality lights for any application that enhance the individual design of your vehicle and set highlights.
Whether you are looking for a light for a bus, a tractor, a wheelchair, a camper or a trailer.
The range extends from normal bulb lights to sophisticated LED multiple function lights.
Delivery Services
We have a number of Home Delivery services available to you. Availability of these options will be shown at checkout.
International Delivery
We offer delivery to European and many international destinations. For European countries, prices start from £3.00 – € 4.00 and are calculated at the checkout page. Click here for a price guide.
For non-European countries, please select your parts and check out normally selecting your country;
Returns
At QuickParts.mobi we hope that you are happy with your purchase, however, we know that sometimes you will need to return or cancel an item. Any products returned must be in a re-saleable condition & include the original packing and documentation.
Quickparts must be informed of any return requests within 30 days of the original order date.
Before returning any goods please read our Terms and Conditions
You'll find returns information on your delivery note. Unless faulty, we'd like you to make your return within 90 days of purchase. Exceptions apply to certain products – find out more about our refund policy.